"The only trial of my life in this lovely place is that I have not time to write and tell you everything about all I see, hear and do…"–18 October, 1889. (From An Indian Portia, Selected writings of Cornelia Sorabji 1866 to 1954, Edited by Kusoom Vadgama)
A black-and-white photograph of Cornelia Sorabji, the first Indian woman admitted to Oxford in 1889, hangs in a nook of the law library of Somerville, a former women's college. Portraits of Indira Gandhi and Margaret Thatcher share a wall in another section of the campus on Woodstock Road.
Women achievers also frame the walls of its dining-hall, a place usually reserved as a bastion of all-male portraits in other colleges in Oxford. And one may walk on its lawns, an activity strictly banned at the bigger manicured colleges where Harry Potter was filmed.
It's over a century since Sorabji became 'the first woman (Indian or British) to sit the examination for the degree of bachelor of civil law at Somerville College in 1892', as Vadgama wrote.
Oxford–number one among 1,000 universities on the Times Higher Education World University Rankings 2018–is home to 390 Indian students among 23,195 students from over 140 nations, and over 140 academics from India.
India's student strength in the very expensive intellectual capital of the UK is fourth-highest after the US, China and Germany.
"Between 2006-2016, Indian students in Oxford increased by 52.9%,'' Nina Tomlin, acting director at the international strategy office of the University of Oxford, told IndiaSpend. "The average annual growth rate is 4.6%.''
But it's below potential; Indian students outnumber those from Italy by just five. Germany sends nearly twice as many students as India.
The Indian diaspora, one of the highest ethnic minority groups with approximately 1.5 million people, is equivalent to 1.8% of UK's population. India invests more in the UK than in the European Union. But barely an hour-long train ride away from London, on the leafy streets of Oxford's grand old city-centre, one is likely to bump into more American and Chinese students: 1,573 and 1,151 respectively, according to Oxford University data.
Source: University of Oxford. *including Hong Kong & Macao
The decrease in Indian enrolments in the UK since 2010 is blamed mainly on tightening visa and immigration policies that impose restrictions on working after studying in the UK. India saw the largest percentage decrease of 44% between 2011-2012 and 2015-2016, according to data from the the Higher Education Statistics Agency (HESA), the data analysis agency for higher education in the UK.
"In numbers, this meant that in 2015-16, the number of student enrolments domiciled from India was 13,150 less than in 2011-12,'' the HESA reported. In contrast, HESA said that there were 12,500 more student enrolments domiciled from China in 2015-16 than in 2011-12.
"The mere idea of not having Indian engineering students in my classroom makes me sad and worries me," Elena Rodriguez-Falcon, professor of enterprise and engineering education, was quoted saying by The University of Sheffield on January 13, 2017.
While the number of Indian students studying in the UK declined by 49% from 2010–2011 to 2013–2014, numbers to the US have grown by 6%, according to this 2014 report by the British Council.
"There are now more students from America studying in the UK than from India," The Independent reported on January 14, 2016. "Just five years ago, Indian students outnumbered their US counterparts by two to one."
The decline in Indian students is also partly due to the closure of bogus colleges, according to British officials, Hindustan Times reported on July 16, 2017.
International students should be removed from the annual net migration targets and offered better post-study work opportunities to reverse the decline, London mayor Sadiq Khan said recently.
A niche Indian corner in Oxford
A four-year-old centre housed in airy offices at Somerville College, established as a partnership between the Indian government and the University of Oxford, is trying to make its niche contribution to expand the Indian student community in Oxford. The Oxford India Centre for Sustainable Development was launched in 2013 to support 'exceptional Indian scholars' to study topics relating to India's sustainable development at Oxford and 'translate academic ideas to the ground'.
"Every week, I get emails from students in India who are eager to study here,'' Sara Kalim, director of development at the centre, told IndiaSpend. "Each year, we sift through 150 short-listed applications for Master's to DPhil courses from students who have already been accepted into Oxford. The calibre of Indian students is always outstanding.''
"We were made aware of falling numbers of students from India to UK, due in part to funding restrictions," said Kalim. "The Centre's focus on talent development through scholarships seeks to address this."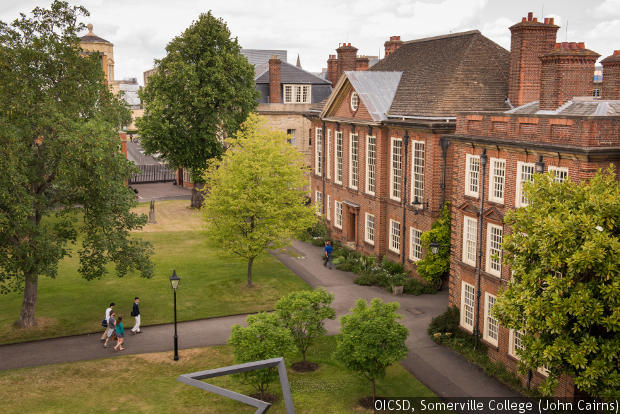 Somerville College, Oxford. The Oxford India Centre for Sustainable Development, housed in airy offices at Somerville College, was launched in 2013 to support 'exceptional Indian scholars' to study topics relating to India's sustainable development at Oxford and 'translate academic ideas to the ground'.
Three of its new-comers are Indian women enrolled in the Cornelia Sorabji Law Programme launched last year. The Centre offers about 10 scholarships at any time and is in 'fundraising mode' to launch more scholarships for example, in environmental law.
Engineering, science and law are the most popular postgraduate research degrees for Indians at Oxford, according to the university website. The 'majority of its Indian students are graduate students, with over half concentrated in social sciences'.
"I was attracted to Oxford university to study criminal law from a comparative perspective,'' Aradhana C V from Bengaluru told IndiaSpend.
Aradhana is here to pursue a bachelor of civil law postgraduate degree, with funding from the Cornelia Sorabji Law Programme.
"I doubt I would have come to the UK without a scholarship," she said, "It's extremely expensive.''
She reckoned that in her class of approximately 160 students studying bachelor of civil law, about nine are Indians.
Almost half the Indian applicants to the India Centre say they are unable to make it to Oxford largely due to lack of funding. Average annual cost for an overseas student can be around 35,000 pounds including fees and living costs.
There are multiple scholarships in Oxford–over 180 Rhodes scholarships were awarded to Indian graduates since 1947, and 60 Indians received the Clarendon scholarships since 2001–and nearly every campus is said to be in fundraising mode to expand access.
"Funding is always a challenge," Kalim admitted. "In the short-term, we would like to double the number of Indian students on scholarships here. In the long-term, we would hope to build a place to house meaningful interactions between Oxford and India.''
The Centre's research activities focus on healthcare–developing inexpensive, remote technologies to monitor and treat Parkinson's disease patients, for example, and sustainable nutrition issues like mapping the rice supply chain, marine pollution and studying sustainability of the public distribution system.
"The natural inter-disciplinary environment of Oxford lends itself well to some of the sustainable development problems of India,'' Kalim said. "We are a centre for India, rather than about India."
---
(Patil is a Mumbai-based writer spending a semester in Oxford as a journalism fellow at the Reuters Institute for the Study of Journalism. A version of this piece was first published on https://reshmapatil.com)

Reprinted with permission from IndiaSpend, a data-driven, public-interest journalism non-profit organisation.