Latest LIVE: Bihar Education Minister resigns three days after appointment
Stay tuned for Latest LIVE news
BS Web Team
New Delhi
Bihar education minister Mewa Lal Chaudhary, whose appointment to the post had triggered a controversy on account of a corruption taint, on Thursday tendered his resignation, barely three days after being sworn in as a member of the Nitish Kumar cabinet.
The Supreme Court today restored a PIL, which was dismissed earlier, challenging the constitutional validity of Centre's newly enacted three farm laws on a ground that Parliament lacked power to make legislations on the subject as 'agriculture' is a state subject in the Constitution.  
Delhi CM Arvind Kejriwal on Thursday announced hiking fines for not using face masks from Rs 500 to Rs 2,000 and increasing the number of beds for Covid-19 patients at hospitals amid a massive Covid-19 surge. He also appealed to the people not to celebrate Chhath at ponds and other water bodies in the city.
 
Prime Minister Narendra Modi and his counterpart from Luxembourg Xavier Bettel held a virtual summit today, covering a wide spectrum of bilateral relationship.
 
Stay tuned for the latest news of the day.
1:59 AM
US general says IS in Iraq and Syria still long-term threat
Although the Islamic State extremist group is battered and scattered, it cannot be fully defeated until the world finds a way to reconcile and resettle the thousands of people displaced by years of war in Iraq and Syria, the general overseeing American military operations in the Mideast said on Thursday.

Marine Gen. Frank McKenzie, commander of US Central Command, said there is no military means of solving the problem of Mideast refugees and internally displaced persons, or IDPs, who await repatriation or resettlement and represent what he called an unfortunate byproduct of armed conflicts. Today, across vast swaths of Syria and Iraq, the systemic indoctrination of IDP and refugee camp populations who are hostage to the receipt of ISIS ideology is an alarming development with potentially generational implications, McKenzie said in remarks to the National Council on US-Arab Relations.

He said a solution must come from a joint effort by diplomatic, security and humanitarian organizations.
1:27 AM
Facebook estimates hate speech seen in 1 out of 1000 views on its platform
Facebook Inc for the first time on Thursday disclosed numbers on the prevalence of hate speech on its platform, saying that out of every 10,000 content views in the third quarter, 10 to 11 included hate speech.The world's largest social media company, under scrutiny over its policing of abuses, particularly around November's U.S.presidential election, released the estimate in its quarterly content moderation report.
On a call with reporters, Facebook's head of safety and integrity Guy Rosen said that from March 1 to the Nov. 3 election, the company removed more than 265,000 pieces of content from Facebook and Instagram in the United States for violating its voter interference policies.
12:40 AM
People's Alliance for Gupkar Declaration announces seat-sharing formula for 4th phase of District Development Council polls in J-K. Of 16 seats, PDP to contest seven, NC four, CPI(M) two.
12:09 AM
Rajasthan govt to give Rs 6,000 to women becoming mothers for second time
Rajasthan Chief Minister Ashok Gehlot on Thursday said Rs 6,000 will be given to women becoming mothers for the second time under a new government scheme. He said the beneficiary women will get the amount directly in their bank accounts in five phases.

On the birth anniversary of former prime minister Indira Gandhi, Gehlot launched Indira Gandhi Matritva Poshan Yojana through a video conference. The scheme will not only help fight malnutrition, but will also increase awareness among the people about the importance of a mother's health and her nutrition level for proper development of children, he said in a statement.

"If a pregnant woman gets adequate nutrition, then the baby will also be born healthy," Gehlot said, adding that the scheme was announced in the state budget on March 13.
10:16 PM
Bharti Infratel, Indus Towers merge; VIL gets Rs 3,760 cr for Indus holding
The merger of Bharti Infratel and Indus Towers to create a mega tower company has been completed, and Vodafone Idea has received Rs 3,760.1 crore cash for its 11.15 per cent holding in Indus, a regulatory filing said on Thursday.
Vodafone Group will hold 28.12 per cent stake in the merged entity, while the holding of Airtel Group will be about 36.7 per cent.
Read More...
10:02 PM
Over 3 million Indians returned from abroad under 'Vande Bharat' mission: MEA
9:16 PM
2020 US elections: Donald Trump's campaign says they are withdrawing lawsuit in Michigan, says Reuters
9:01 PM
PM Modi pitches for strong economic relations in India-Luxembourg summit
Asserting that there was a huge potential to further ramp up economic engagement between India and Luxembourg, the third largest source of Foreign Portfolio Investments (FPI) for the country, Prime Minister Narendra Modi while adressing the first summit in two decades between the two countries on Thursday pitched for strengthening of cooperation in a range of areas like financial and digital technologies.
Addressing the summit, held through videoconferencing, Modi also talked about the common values like democracy, rule of law and freedom which have strengthened the bilateral ties.
"There is a huge potential to expand economic engagement between the two countries. We have good cooperation in areas like steel, financial technology, digital domain, but there is a massive possibility of taking it forward," Modi said at the meeting with his Luxembourg counterpart Xavier Bette.
READ ON...
8:48 PM
Loan moratorium is fiscal policy matter, required steps taken: Centre to SC
The Centre on Thursday told the Supreme Court that issue pertaining to loan moratorium in view of the COVID-19 pandemic is a fiscal policy matter and the government has taken various proactive steps keeping in mind different sectors.
While apprising the apex court about the steps and measures taken so far by the Union Finance Ministry and the Reserve Bank of India (RBI), the Centre told a bench headed by Justice Ashok Bhushan that it is not a case of no action and no further indulgence may be given even if the petitioners say that there could be better option on this issue.
The bench, also comprising Justices R S Reddy and M R Shah, was told by Solicitor General Tushar Mehta that to ask for sector specific reliefs from the top court now is perhaps not a remedy available under Article 32 of the Constitution.
READ ON...
8:39 PM
Technology will help us vaccinate large population in short time: PM Modi
Prime Minister Narendra Modi on Thursday told India Inc including top industry leaders, technologists and startup founders that the country is uniquely positioned to leap ahead in the information era. He said it is time for tech-solutions designed in India to be deployed for the world.
"We have the best minds as well as the biggest market," said Modi at the Bengaluru Tech Summit, 2020, which was held virtually. "Our local tech solutions have the potential to go global."
He said that technology is the prime reason that the government's schemes have gone beyond files and have changed the lives of Indians at speed and at scale. This includes providing electricity to almost all households. He said technology gives India the confidence that it would be able to vaccinate a large population of people against the Covid-19 virus in a short period of time. "When it comes to technology, the way ahead lies in learning and growing together," said Modi. Inspired by that approach, a number of incubation centres are opening in India. He said the government is providing support to the vibrant startup community. Over the last few years, a great culture of hackathons has developed in the country.
READ ON...
8:24 PM
To ramp up Delhi's medical infrastructure, all 75 doctors, 251 paramedics from paramilitary have reported to duty: MHA
8:14 PM
Farmers protesting against agri laws to take highway route to Delhi on Nov 26
Farmers who are protesting against three new farm laws will reach Delhi on November 26 through five highways connecting the national capital as part of their 'Delhi Chalo' march call. The All India Kisan Sangharsh Coordination Committee (AIKSCC), Rashtriya Kisan Mahasangh and various factions of Bharatiya Kisan Union have joined hands and formed a 'Samyukta Kisan Morcha' to press the central government to scrap the three farm laws.
The 'morcha' has the support of over 500 farmers' organisations. Various farmer leaders met here on Thursday in connection with the November 26 'Delhi Chalo' march.
A seven-member committee has also been formed to coordinate the operations of the 'morcha'.
8:08 PM
Will forge an alliance with Samajwadi Party to defeat BJP in 2022 Assembly election: Shivpal Yadav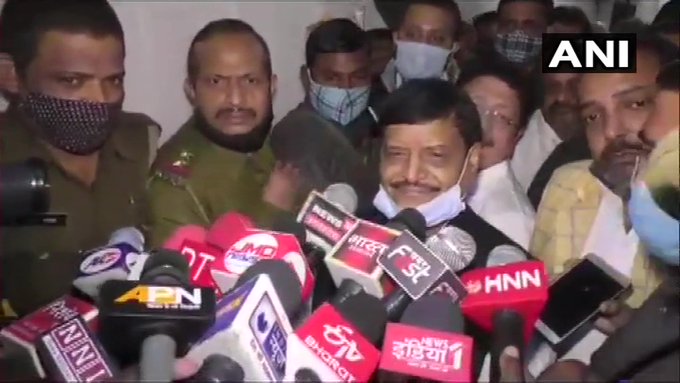 8:04 PM
New Development Bank approves Rs 3,700 crore for Delhi-Ghaziabad-Meerut rail corridor
The New Development Bank (NDB) has approved $500 million (approx. Rs 3,700 crore) for the Delhi-Ghaziabad-Meerut Regional Rapid Transit System (RRTS), which aims to significantly reduce in pollution and congestion.
The Delhi-Ghaziabad-Meerut RRTS is an 82.15 km long, under-construction, semi-high speed rail corridor connecting Delhi with Meerut in Uttar Pradesh.
The RRTS corridor will have a total of 24 stations and will be elevated for around 70.5 km while 11.5 km of its stretch will be underground. Civil construction work is in progress on more than 50 km of this corridor. The 17-km long priority section of this corridor between Sahibabad and Duhai in Ghaziabad district is scheduled to commence operations in 2023, while the entire corridor will be opened to the public by 2025.
8:02 PM
Maharashtra reports 5,535 new coronavirus cases, tally rises to 17,63,055
8:01 PM
Four JeM terrorists killed in 3-hour-long gunbattle on Jammu-Srinagar highway
Four suspected Jaish-e-Mohammad terrorists were killed and two policemen injured in a gunbattle on the Jammu-Srinagar national highway after a truck carrying newly infiltrated militants was intercepted on the outskirts of Jammu city on Thursday. The terrorists had come to execute a "big plan" which has now been foiled, Inspector General of Police (IGP), Jammu, Mukesh Singh, said.
Reacting to the success of the security forces, Lieutenant Governor Manoj Sinha said, "No outside force can derail us from our mission of peace and progress."
In Srinagar, IGP, Kashmir, Vijay Kumar said the four terrorists were on their way to the Kashmir Valley to disturb the District Development Council (DDC) polls scheduled later this month, as Pakistan has been trying to cause trouble in the political process.
7:51 PM
Delhi govt orders 90 private hospitals to reserve 60% of total bed capacity for treatment of Covid-19 patients
7:23 PM
There has been no firing across the LOC today, clarifies Indian Army
7:23 PM
SC orders Uttarakhand govt to demolish four illegal religious structures in Haridwar
The Supreme Court on Thursday gave time till May 31, next year to Uttarakhand government to demolish the four illegal religious structures built on public land in Haridwar in view of upcoming Kumbh Mela' which is scheduled to be held in the city from January, 2021.
A bench of Justices Ashok Bhushan, R Subhash Reddy and M R Shah said, For the reasons given in the application and especially that Kumbh Mela' is to commence in 2021 and will end on April 15, 2021, we are of the view that the State should be permitted to demolish the illegal structures by May 31, 2021.
Solicitor General Tushar Mehta, appearing for Uttarakhand government, submitted that the State has undertaken to commence proceedings for demolition of the four illegal structures in Haridwar and will remove them by May 31, 2021.
7:18 PM
Considering an agreement between ISRO and Luxembourg space organisation: MEA
First Published: Nov 19 2020 | 06:08 AM IST