Renowned American car makers Galpin Auto Sport and Henrik Fisker have given Mustang lovers even more reason to salivate by bring out the Mustang Rocket at the LA Auto Show. The Rocket based on the 2015 Ford Mustang houses 725 horses under its hood and looks even more muscular than its archetype.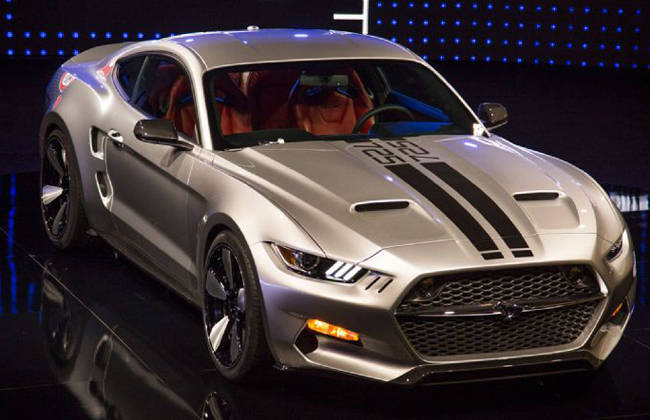 The exteriors of the Rocket have been reworked heavily and the most striking part is the hexagonal grille which is divided by a chrome bar, embossed with the Mustang logo. The headlights are tucked away in the elongated nose and the hood scoops give it a beefier look. The designs are not just cosmetic but have practical applications as well. The Shelby GT 500 inspired hood scoops channel cooler air through the engine compartment, supplementing the grille and front splitter in keeping the engine running at optimum temperature; the ducts at the wheel arches help cool the 15-inch Grand Turismo Brembo brakes. The interiors are untouched with the exception of red leather and carbon fibre trim.
The 725 horses are powered by a 5.0 litre V8 engine supercharged engine mated to a six speed manual gearbox. "It's a special moment when you get to work on a car like the Ford Mustang. This is a project born out of passion, it's a dream come true, to have the opportunity to "touch" a Mustang and apply my design ideas to it," said Fisker.
The Rocket rides on 21 inch wheels with Pirelli Zero extreme performance tyres supported by fully adjustable, independent front and rear suspensions. Drivers can tune their car as per their requirement, be it for street or a track set-up.
The Mustang Rocket will be a low volume production series which will hit the assembly lines in December 2014 and will be available for customers early 2015 onwards.