Coronavirus LIVE: Quick response helped India avoid 3.7 mn cases, says CEA
Coronavirus live updates: Globally, more than 102 million people have been infected by the virus and the death toll stands at 2,199,065
BS Web Team
New Delhi
Coronavirus live updates: India witnessed a spike of 18,940 fresh fresh cases of the coronavirus disease (Covid-19), a day after recording only 11,666 cases. The total number of active cases in the country has fallen to 173,762, while the caseload tally stands at 10,720,971. Globally, more than 102 million people have been infected by the virus. The country continues to be second-most-affected globally, and ranks 13th among worst-hit nations by active cases.
The five most affected states by total cases are Maharashtra (2,015,524), Karnataka (937,383), Kerala (905,591) , Andhra Pradesh (887,349), and Tamil Nadu (836,315).
With more than 2.5 million health workers vaccinated so far, 11 states have given the first jab to over 35 per cent of its healthcare workforce and another six have achieved about 20 per cent or less vaccine coverage, health ministry data showed.
India is the fastest in the world to reach one million vaccinations within the first six days — US took 10 days and Germany 20.
World coronavirus update: Coronavirus cases rise unabated across the globe, with more than 102 million infected by the deadly contagion. While 73,843,881 have recovered, 2,199,065 have died so far. The US remains the worst-hit country with 26,163,157, followed by India, Brazil, Russia and the United Kingdom. However, it terms of the total number of active cases, US tops the charts, followed by France, UK, Brazil and Belgium.
Stay tuned for the latest coronavirus-related news updates.
2:39 AM
Over 171,000 health workers in UP vaccinated on Friday
Over 171,000 health workers were administered Covid-19 vaccine in Uttar Pradesh on Friday, meeting 66.4 per cent of the target.
 
According to an official report updated at 8.30pm, as many as 171,198 health workers were inoculated in 2,305 sessions at vaccination centres across the state, meeting 66.4 per cent of the target of 2,57,781.
 
The vaccination rate was about 64.8 per cent in the last round, when 100,676 health workers were vaccinated against a target of 155,311.
 
With this, the total number of health workers to get the vaccine against the coronavirus in UP crossed 271,000.
 
The state has 906,000 health workers, including 234,000 in the private sector.
 
Chief Minister Yogi Adityanath has directed officials to ensure that all health workers are vaccinated by February 5.
8:44 PM
Delhi reports 249 new coronavirus cases and 267 recoveries: ANI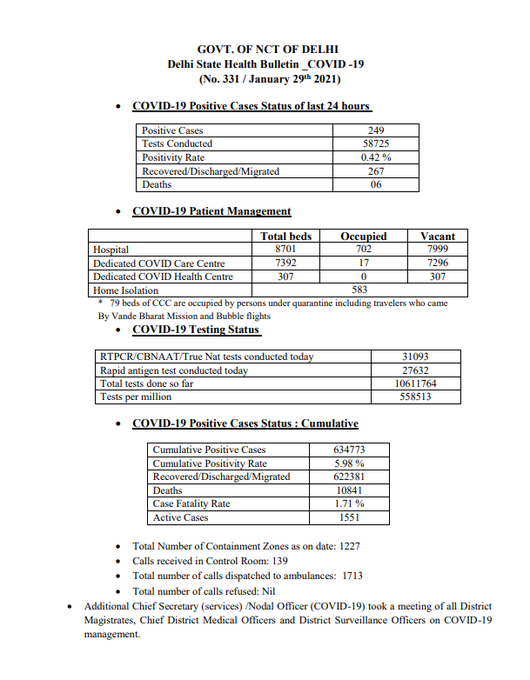 8:27 PM
J&J says vaccine offers 100% protection against coronavirus deaths
Johnson & Johnson's one-shot vaccine generated strong protection against Covid-19 in a large, late-stage trial, raising hopes that it can rapidly reshape a stumbling immunisation campaign.
In the more than 44,000-person study, the vaccine prevented 66 per cent of moderate to severe cases of Covid-19, according to a company statement on Friday. And it was particularly effective at stopping severe disease, preventing 85 per cent of severe infections and 100 per cent of hospitalisations and deaths.
Based on the result, J&J plans to file for an emergency-use authorization in the U.S. in early February. The drug giant's top scientist said this month that he expects a clearance in March, and that it would have product ready to ship then. The company didn't specify how much of the vaccine would be available immediately, though it reaffirmed that the U.S. would receive 100 million doses in the first half of the year.
READ ON...
7:59 PM
India's cumulative positivity rate fell to 5.50%: Health Ministry
7:20 PM
Initiate Covid-19 vaccination of frontline workers from first week of February: Centre to states
The Union Health Ministry on Friday asked all states and union territories to initiate vaccination of frontline workers against COVID-19 from the first week of February. Vaccination of healthcare providers that began on January 16 to continue simultaneously, the ministry said in a letter to states and union territories (UTs).
In the letter, Health Ministry Additional Secretary Manohar Agnani said the database of frontline workers is being updated by states and UTs in collaboration with the respective line ministries. As on date, the database of more than 61 lakh frontline workers has been uploaded on Co-WIN portal.
"In this regard, after due consultation with states and UTs, it is advised that the states and UTs shall initiate simultaneous vaccination of frontline workers and healthcare workers from the first week of February," Agnani said.
7:13 PM
Vaccination for frontline workers will start from 1st week of February 2021: Government Official
Vaccination for frontline workers will start from 1st week of February 2021: Government Official
6:46 PM
India's Covid-19 response saved over 100,000 lives: Economic Survey
India's pandemic response, focused on saving lives and livelihoods, restricted the COVID-19 spread by 37 lakh cases and saved more than 1 lakh lives, as per the Economic Survey 2020-21.
The pre-Budget document tabled in Parliament on Friday noted that in the absence of a potent cure, preventive vaccine; interplay of network structures in densely populated areas, and a high case fatality rate (CFR), India weighed the costs and opportunities strategically.
The limits of scientific understanding of the disease, lack of good data on the mode of spread and potency of the virus made it difficult to model the likely impact of different policy options in a reliable and timely way. To aggravate the uncertainty, it was estimated that India would have 30 crore cases and several thousand deaths by the end of May, 2020, it noted. India imposed a strict lockdown from March 25 to May 31, 2020 to check the spread of the virus.
6:06 PM
18,855 fresh Covid-19 cases in India, most from Chhattisgarh due to 'data reconciliation'
India has added 18,855 fresh COVID-19 cases in a span of 24 hours, a jump from the previous day's count of 11,666, with Chhattisgarh alone adding 6,451 cases because of a data reconciliation process, the Union Health ministry said on Friday. The country's COVID-19 tally is now 107,20,048, PTI reported. Chhattisgarh has reported 6,451 cases, 6,479 discharges and 35 deaths.
"The jump in figures, according to the State Health Department, is due to the reconciliation of district level and state level case, discharge and death figures," ministry said.
5:47 PM
Dr Reddy's eyes to launch Sputnik V vaccine for Covid-19 under EUA in March
Dr Reddys Laboratories, which is conducting Phase 3 trials of Russia's COVID-19 vaccine Sputnik V, believes the jab is expected to be launched in India through Emergency Use Authorisation, a senior official of the city-based drug maker said on Friday.
"The phase 3 (trial) is currently ongoing. We are dosing patients and we expect to complete the dosing as part of the phase 3 by February. "After that we expect to compile the data and submit for Emergency Use Authorisation, make the request to the DCGI with our dossier," company's CEO of APIs and Pharmaceutical Services Deepak Sapra said.
In September last, Dr. Reddys partnered with Russian Direct Investment Fund (RDIF) to conduct the clinical trials of the Sputnik V vaccine and for its distribution rights in India.
3:44 PM
India avoided about 3.7 million cases and 100,000 deaths through its prompt response: CEA
3:05 PM
UNHCR helps with cash assistance 75,000 Afghan refugee families hit by Covid-19 in Pak
UN refugee agency UNHCR has provided emergency cash assistance to 75,000 vulnerable Afghan refugee families that have been hit hard by the coronavirus pandemic in Pakistan, an official said on Friday. More than 1.4 million registered Afghan refugees are hosted in Pakistan. Due to the COVID-19 pandemic, their ability to work and earn a minimum livelihood, mainly as daily wage earners, has been severely affected.
"Cash assistance to 75,000 refugee families is about leaving no one behind, as the COVID-19 pandemic does not discriminate," UNHCR Representative in Pakistan Noriko Yoshida said.
UNHCR's emergency cash programme has supported a total of 450,000 Afghan refugees in Pakistan. One out of every three Afghan refugees has benefitted from this support.
2:15 PM
Supply of Covid-19 vaccines may meet, even outstrip demand in India by Q3: AstraZeneca chief
The supply of vaccines for COVID-19 may meet up or even outstrip the demand in India by the third quarter of this year, given the number of vaccines being developed in the country and its capacity, AstraZeneca Pharma India Country President and MD Gagan Singh said on Friday. The pandemic has shown how resilient healthcare is, and how important pillar biopharmaceutical industry is as part of the healthcare ecosystem. Therefore, support for academic research, a vibrant healthcare system that embraces innovation is going to be very critical, he added.
"I am very hopeful given our enterprise, given the number of vaccines India is developing and the capacity available, hopefully in my own personal read, by quarter 3, we may actually have a situation where supply will meet up the demand or even outstrip," Singh said.
We must compliment our government also in its efforts towards getting the country in putting the plan for vaccination together and now in the rollout, he added.
12:33 PM
IMF urges decisive govt actions to ensure swift Covid-19 vaccine rollouts
Decisive government actions are necessary to ensure swift and extensive vaccine rollout, protect the most vulnerable households and otherwise viable firms, and foster a durable and inclusive recovery, the International Monetary Fund (IMF) said.
"The Covid-19 pandemic is accelerating in many countries and uncertainty is unusually high," Vitor Gaspar, director of the IMF's Fiscal Affairs Department, and his three colleagues wrote in a blog published on Thursday.
Read on...
10:24 AM
UN chief Guterres receives first dose of Covid-19 vaccine in New York
United Nations (UN) Secretary-General Antonio Guterres received his first dose of a Covid-19 vaccine in New York on Thursday.
Guterres received a vaccine shot at Adlai E Stevenson High School in The Bronx, a few miles uptown from UN Headquarters in New York, according to a release published on the UN official website.
Taking to Twitter, the UN chief said that he was fortunate and grateful to receive the shot, and urged the international community to ensure that vaccines become available to everyone on an equitable basis.
Read on...
9:58 AM
Coronavirus in India: With 572,060 vaccinations in a day, India's total now at 27% of caseload
With 572,060 vaccinations in a day, India's total now at 27% of caseload
9:47 AM
Coronavirus in India: Latest update by MoHFW
India reports 18,855 new Covid-19 cases, 20,746 discharges and 163 deaths in last 24 hours, as per Union Health Ministry
Total cases: 1,07,20,048
Active cases: 1,71,686  
Total discharges: 1,03,94,352  
Death toll: 1,54,010
Total vaccinated: 29,28,053
9:14 AM
Brazil surpasses 9 million confirmed Covid-19 cases, 221,547 deaths
The number of confirmed cases of the coronavirus in Brazil has increased by 61,811 within the past 24 hours and reached 9,058,687, the Ministry of Health said.
The death from has risen by 1,386 to 221,547 within the same period of time, according to the ministry.
Brazil comes third in terms of the number of cases after the United States and India, as well as second in terms of the deceased people following the United States.
9:12 AM
Over 300 infected with Covid variant in Canada care home
A devastating outbreak linked to the UK Covid-19 variant at a care home in Canada's Toronto city has now infected more than 300 individuals, heightening fears of community spread, according to officials.
All but one of the home's 128 residents have been sickened with the virus, along with 86 staff members, Xinhua news agency reported.
The variant spreading in Ontario is a "significant threat" to controlling the pandemic, but maintaining existing public health interventions will likely help encourage a downward trend in cases, according to an updated report by the provincial government's Covid-19 advisory table released on Thursday.
8:18 AM
France reports another 23,770 coronavirus cases, 348 deaths
France's Public Health Agency said that it has registered 23,770 new Covid-19 infections and 348 deaths in hospital.
The country has to date recorded a total of 3,130,629 Covid-19 cases and 74,800 deaths related to the disease, Xinhua news agency reported on Thursday.
The Ministry of Health also said that 1,349,517 injections had been carried out since the start of the vaccination campaign, including 117,734 in 24 hours.
First Published: Jan 29 2021 | 07:11 AM IST